While cable railings are becoming popular options in California for all kinds of stairs, few people realize exactly how versatile they are. Once you see them indoors, outdoors, and paired up with all kinds of ideas, you'll have a better idea if you'll like the look of a cable railing system for your own space. So, we've collected some inspiring cable stair railing ideas for you to draw inspiration from.

source
1. Classy Monochrome
A classic black and white look can add significant sophistication to your home and a cable railing can fit right in. The steel isn't even noticeable as a departure from the black and white theme, especially with black handrails and posts. For the gloss and to keep the railings thin, this designer has chosen to use metal posts and handrails with a shiny black finish. It looks lovely with the black stair treads.

source
2. Glass and Metal
The semi-translucent steps on this staircase required something special from the railing. James Carpenter Design Associates decided to go with a cable railings system mostly in the same metal as the elegant, central column. However, they also added in a wooden handrail, possibly to work better with the wooden walls, which will become more visually prominent as you move up the stairs.

source
3. Farmhouse Cross
When you really want that classic farmhouse fence-gate look, but you know it doesn't fit your building codes, or isn't safe enough for you, adding in a cable railing is smart. This way the wooden elements of the railing can be purely decorative, so you can have the species of wood you want, without compromising the stability of the railing at all.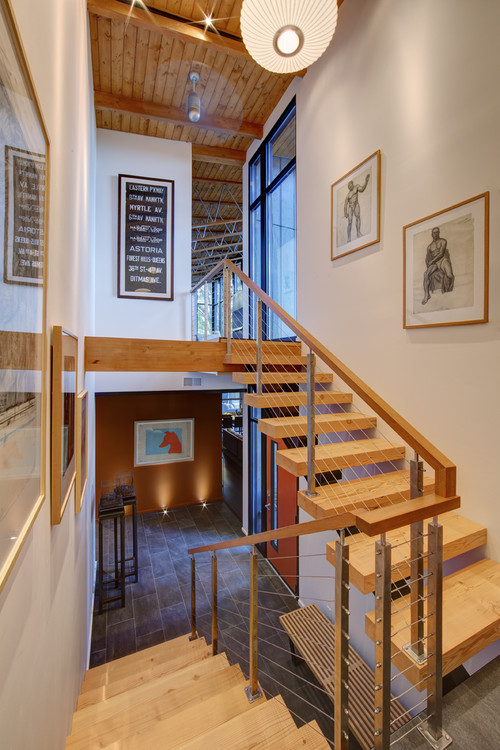 4. Floating Wood
The floating staircase look is sensational in more rustic-style homes with lots of wood influence. But how to keep them from looking too anchored and undermining the effect? A cable railing system was the answer here. With ultra-thin rails and thin metal posts, your eye can still see that great floating effect of the steps. Then a matching wooden handrail brings the whole staircase together.

source
5. Black Metal
Rustic inspiration meets modern metal in this staircase. Yes, the stairs lead down into a handsome collection of real wood for a nearby fireplace. However, that doesn't mean the architect needed to limit himself to wood for the railing. Steve Mensch combined the cable railing with a tile floor, a textured concrete wall, and wood paneling to great effect. Mixed materials is definitely "in" for interior design.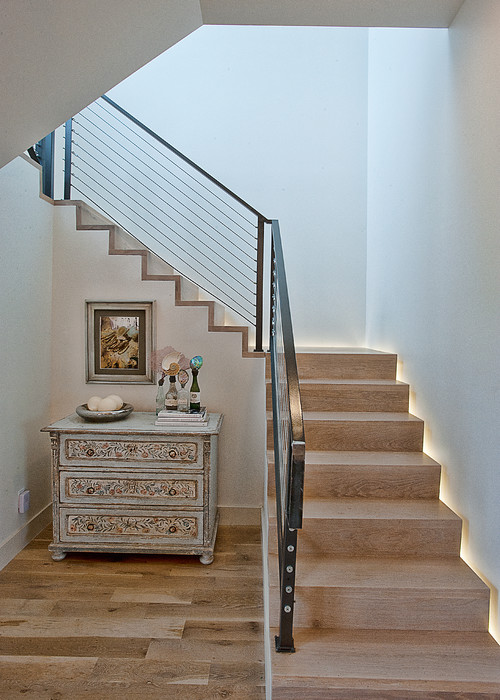 6. Antique Look
Those who have a home full of antiques or unique pieces will love the freedom of a cable railing system. You can use any metal or wood type that will best work with the unique objects near it. In this case, the brass railing has been used to add metallic interest in this otherwise matte space. But the brass also fits in with the timeless pieces nearby.


source
7. Vertical
Who said cable railings have to be vertical? Maybe the building code in your area. But, if not, you could try to recreate this stunning look. The cable railings descend down, exaggerating the height of the staircase and the ceiling above. It's an especially smart choice to keep the emphasis on the textured wall that starts just at the staircase's turn.

source
8. All-Wood
If the emphasis on metal cable railings, had you concerned about your options for wood, don't be alarmed. You can have a very natural, simple, even minimalist wood cable railing. Or, like with this railing, you can opt for a deeper wood and stairs with a few more details to bring out a traditional style in your space.

source
9. Industrial
Combining a dark metal and a rich wood is a great idea to add to an industrial-styled space. This railing pulls it off flawlessly combining the strength of the metal posts with a warmer, homier handrail. Plus, of course, the cables to keep the railing both strong and safe.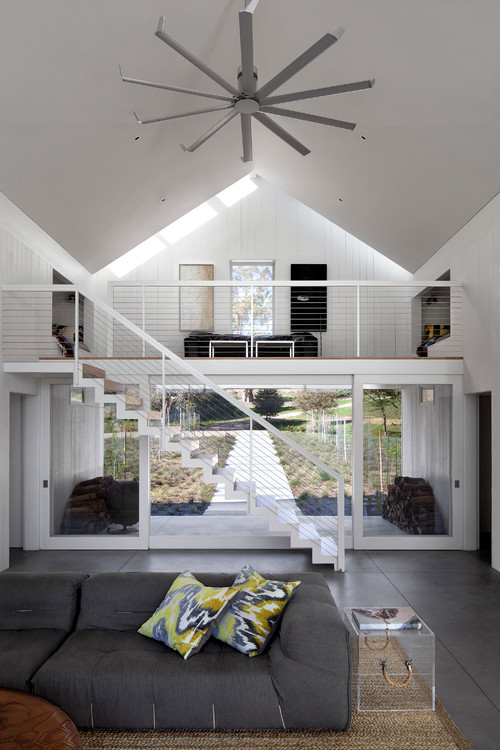 10. Modern Wood
Few things say modern interior décor like white. You can make your cable railing fit right in with any modern space by adding white wood. The look is crisp, minimalist, and will help the stairway blend if you have the classic white walls you most commonly find in minimalist spaces. Even better when different elements of the railing, like tread and risers, are white too.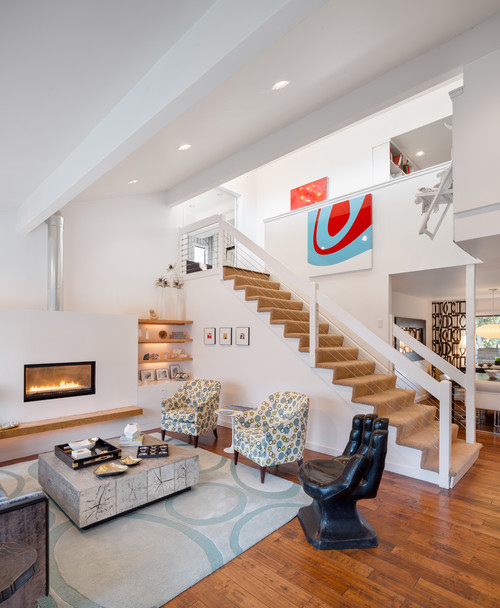 11. Contrasting White
White isn't just modern. You can use it as a strong contrast for vibrant stairs, which is how it has been used here. The white and the cables both blend so that the plush, warm carpet can stand out. It's a very 70s feel, but not dated, more like inspired.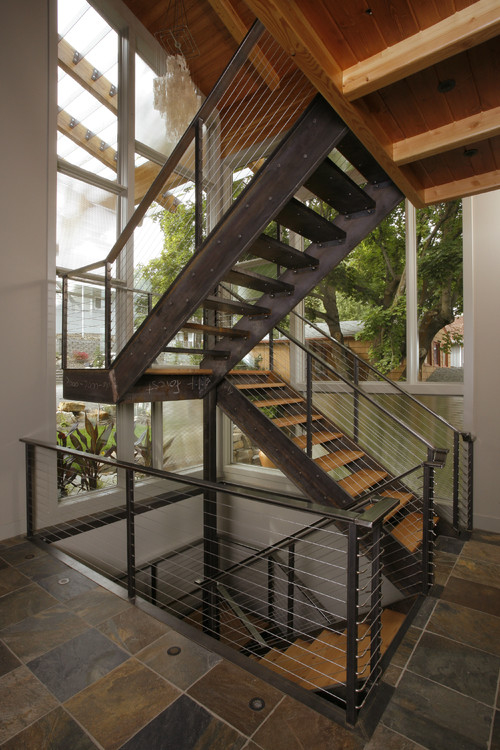 12. Mountain-Style Floating
The architects behind this staircase call it mountain-style floating. You can see that the landing is unsupported, relying on excellent design and a secure railing to keep the stairs safe. For materials the designers have chosen a very textured metal, which is replicated on the handrail and blends well with the treads. In classic mountain style, this metal is mixed with wood treads. The result is a fantastic floating staircase.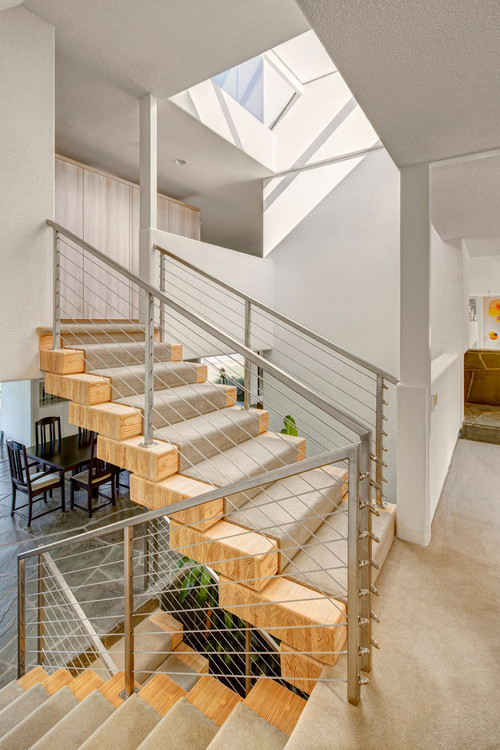 13. Cream Elegance
Rustic styles aren't the only ones you can accomplish with a cable railing system. This staircase is made elegant with the addition of the cable railing. The smooth metal surfaces contrast the wood and carpet textures. Achieving such a closely matching metal with the carpet was important to pull this look off.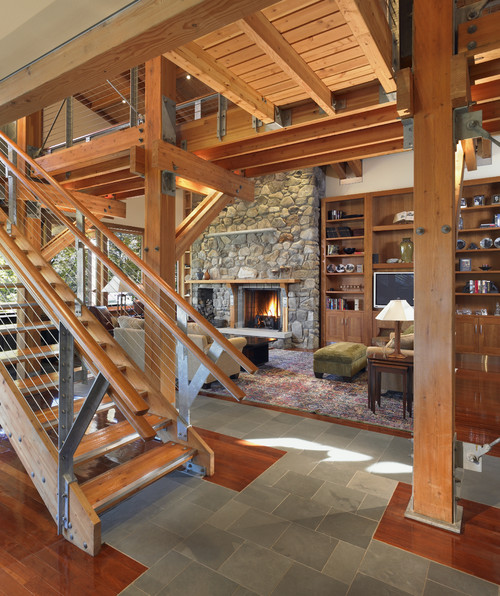 14. Cottage Vibes
When you have exposed wooden ceiling beams and a stone fireplace, it is all too easy (maybe even obligatory) to lean into the cottage style. Your railing can be right there with you.This one pairs a vibrant wood that matches the other wood in the home with metal accents that work well with both the fireplace and the tile flooring. Combining different materials with the cables of a cable railing system is effortless.